Neopor® Insulation
Insulation made of Neopor® for a mixer tap of a bathroom fitting.
Neopor® Tray
The Neopor® dunnage tray for champagne glasses simplifies handling and protects against breakage and damage during transport.
Neopor® Molded Part
To avoid breakage and damage, precisely adapted protective packaging is very important.
Neopor® Cuttings
Functional components or decorative elements made of Neopor® can be manufactured with computer-aided precision and individually.
Neopor® Cuttings
Contour cuts made of Neopor® can be used in many different areas and applications.
Neopor® Molded Part
Neopor® is very well suited for use as a crash pad in the automotive sector.
Neopor® Box
Neopor® has very good insulating properties and can reliably maintain the temperature of sensitive goods.
Neopor® Molded Part
The Schaumaplast Group manufactures your individual moulded part from Neopor®. Simply contact us – we will be happy to advise you.
Thanks to its excellent insulating properties, Neopor® is ideally suited for use as insulation of any kind. Neopor® moldings can be used as insulation for fittings, pipes, valves or cisterns. The light weight and easy handling make maintenance of the systems particularly efficient. The heat generated remains in the circuit and can be thermally recycled, which can lead to considerable energy savings.
Neopor® in the construction industry
EPS is an ideal material for use as insulation in the construction industry. The advantages are obvious. Energy consumption during production is low and transport is simple and uncomplicated. High energy saving effects are achieved due to the excellent insulating properties. A forward-looking solution in this area is Neopor®, developed by BASF.
The addition of graphite gives this special EPS its silver-grey colour. In this way, the insulation performance is considerably increased. In recent years, Neopor has established itself due to its optimal thermal product properties.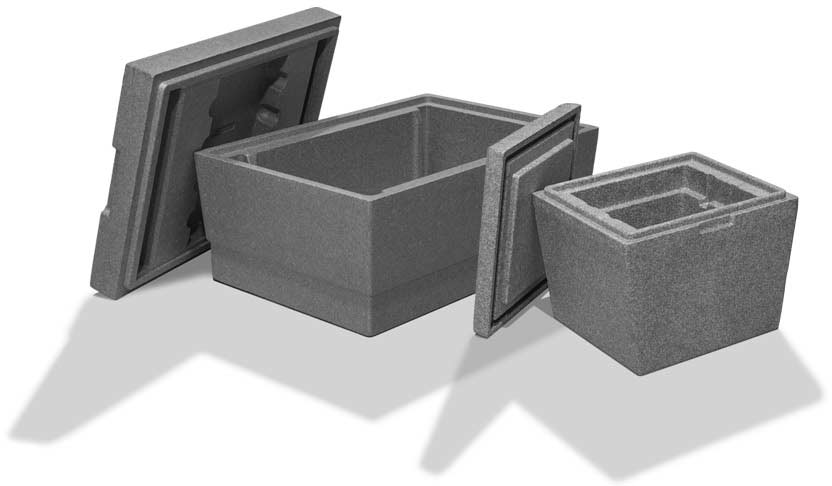 Neopor® box for shipping and transport
Neopor® is particularly suitable for use as a transport box or shipping box for temperature-sensitive goods. The high insulation performance ensures that product quality is maintained throughout the entire transport route. At the same time, the impact resistance of Neopor® protects the transported goods from breakage and damage.
Are you interested in the particle foam Neopor® and would like to learn more?