Because everything begins with an idea.
Company foundation in Viernheim
The foundation stone for the company's international activities was laid in Viernheim, Germany, in 1964. Since then, the Schaumaplast Group has stood for a leading manufacturer of packaging solutions and moulded parts made of particle foam.
New production plant in Reilingen
1970 begins the construction of a new modern production facility in Reilingen begins in order to meet the growing demand for Styrofoam® molded parts and packaging.
In 1971 the Schaumaplast company moved to Reilingen in order to meet the growing demand with a larger production facility. This also led to the foundation of the further growth and expansion of Schaumaplast and the establishment of a strong brand.
Opening of a second production facility in Radebeul
Shortly after the german reunification Schaumaplast expands into the east of Germany and opens a second production site in Radebeul (Dresden).
Foundation of a holding company in Reilingen
Distribution of the site-related operating companies and establishment of a holding company in Reilingen – Schaumaplast GmbH & Co. KG.
Relocation from Radebeul plant to Nossen
Relocation of the Radebeul site to the newly built plant in Nossen – Schaumaplast Sachsen GmbH.
Foundation of Schaumaplast Lüchow
Takeover of the largest German manufacturer of handicraft and bindery articles made of polystyrene in Lüchow.
Entry into the American market
The strategy development and expansion of the company has been in line with the social needs of our employees since it was founded, who make a decisive contribution to our success. In 1999, we extended our business activities to the American market.
Foundation of the joint venture Schaumaplast-Organika Sp. z o.o. by Zaklady Chemiczne Organika S.A. and Schaumaplast GmbH & Co. KG. Establishment of a joint production facility for EPS moulded parts in Lodz, Poland.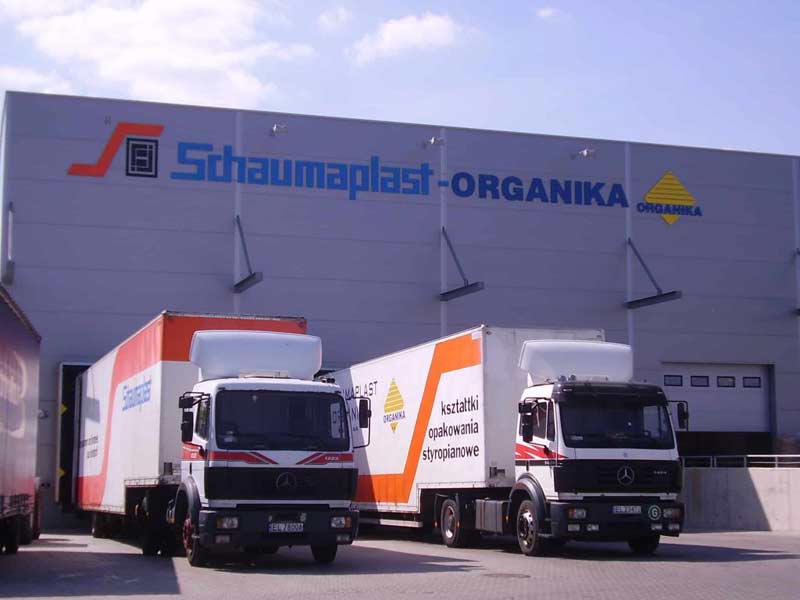 In 2002, an EPP production facility was added to our facilities at the Nossen site. Since 2003, the EPP production plant has grown to 12,000 sqm.
The strong growth potential of the EPP market required an expansion of Schaumaplast Nossen GmbH's production. The new warehouse and production complex was opened in March 2006.
New office and warehouse complex at the Reilingen site
In Reilingen, the new administrative complex with expanded storage capacities is inaugurated.
New production facility in Nossen
Schaumaplast Isolierstoffe GmbH moves from Radebeul to Nossen into the newly built office and production complex.
Under the THERMOCON brand, a separate business unit at Schaumaplast deals with the development, production and qualification of passive thermal packaging. The complete solutions, thermoboxes and cooling elements are used for shipping temperature-sensitive pharmaceutical and biotech products.
Do you have any questions about the Schaumaplast Group?