Advantages of the material
EPP cooling box
for safe and reliable transport of temperature-sensitive products.
EPP cooling box
with sliding lid for safe and reliable transport of temperature-sensitive products.
EPP moulded part
as obstacle module in horse riding. Particle foam is very light and thus prevents injury to the animals or the rider.
EPP dunnage trays
simplify the handling of serial products or small parts. They also reduce the risk of breakage.
EPP Insulation
for distribution system in HVAC industry.
EPP Insulation
for a brewing group of a coffee or tea machine.
EPP footrest
With its very good shock resistance & resilience, EPP is ideally suited for use in motor vehicles, here as a footrest.
EPP blocks
The Schaumaplast Group produces precise cuts and blocks of EPP particle foam.
EPP packing and EPP container
The Schaumaplast Group manufactures EPP packaging and EPP containers precisely according to the needs of the customers. EPP has excellent shock resistance and very good resilience. Especially for packaging and containers made of EPP, this means a high added value through reusability. In addition, EPP has a high temperature and chemical resistance. EPP containers and EPP packaging are also approved for direct contact with food. Like Styrofoam and other particle foams, EPP is also 100% recyclable.
Do you need a cold chain solution with EPP container or EPP packaging? At THERMOCON, our Cold Chain brand, you can get thermo boxes and cooling elements for different temperature ranges and with different melting points.
EPP BLOCKS – EPP PANELS –
EPP CONTOUR CUT
The particle foam EPP is excellently suited for blocks, panels, cuttings and contour cuts. The individual shapes or panels are cut from prefabricated EPP blocks. The low weight as well as the selectable densities make the material versatile and flexible in use. Whether sheet material, blocks, cubes or completely individual shapes – with EPP cuts or EPP contour cuts, you have a wide range of possibilities to successfully implement your project.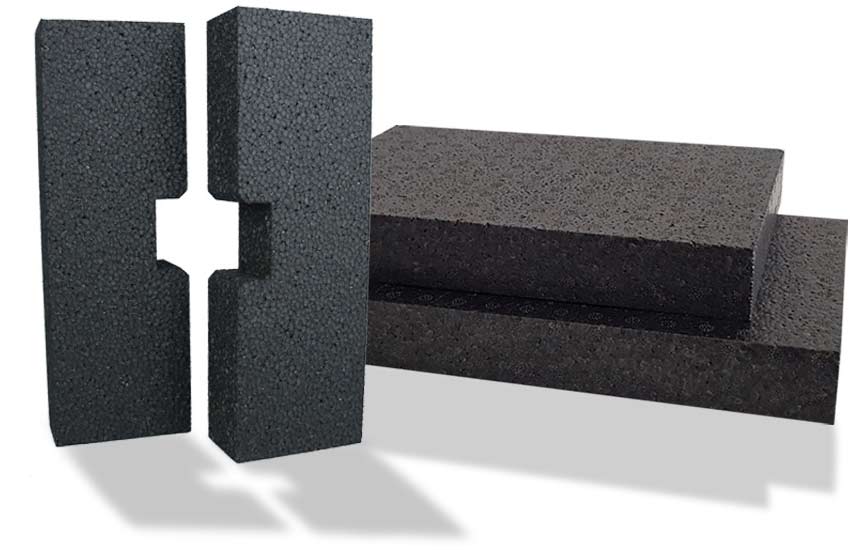 Especially in series production or in the manufacture of small parts, dunnage trays help to make handling between the production stations more efficient and help to minimize breakage and damage. EPP is ideally suited for this: the particle foam is particularly robust and resilient. Thus, many runs can be realized. Furthermore, EPP has a high temperature and chemical resistance, so it can be used under high loads. The Schaumaplast Group manufactures EPP dunnage trays precisely to your products.
EPP in the Automotive Industry
Due to its many positive properties, EPP is increasingly used in the automotive industry. Whether as crash protection elements, head and foot rests, trunk components or toolboxes – EPP contributes significantly to advanced design with its low weight and at the same time high energy absorption.
EPP for HVAC Applications
EPP offers exactly the right properties for HVAC applications (heating, ventilation, air conditioning). The low weight makes housing parts made of EPP light and easy to use installation elements. Thus, faster assembly and disassembly can be guaranteed by practical click systems. These also ensure easy and quick access for maintenance work. The efficient heat and noise insulation of EPP makes it a profitable material for many HVAC applications such as pumps, compressors and air conditioning units.
EPP for Sport and Leisure
The demands on the materials used in the sports and leisure sector are very high. Aspects such as resilience and impact resistance are characteristic of high-quality sports articles. For this reason, sports product manufacturers increasingly resort to the particle foam EPP. Thus, fascia rolls and balls or drones and model planes are made of EPP. Many sports and leisure products today make use of the positive properties of particle foam.
individual
customer solutions
EPP is resistant, robust and has a high energy absorption. Accordingly, expanded polypropylene (EPP) is extremely suitable for products and moulded parts that are subject to mechanical stress. EPP is particularly popular as a crash pad, bumper or headrest in motor vehicles. Compared to other materials, EPP is very light. This saves weight in the automobile, which leads to lower fuel consumption and greater environmental friendliness. EPP is 100% recyclable. But EPP is not only a valuable and practical material for the automotive industry. EPP can be used in almost all industries where lightweight construction potential, insulation and resistance are important aspects.
We process high-quality raw material from renowned EPP producers.
Do you have questions about EPP and its possible applications?