Binding and crafting with styrofoam
Styrofoam moldings are versatile and practical materials in craft supplies. They offer a wealth of possibilities for implementing creative projects. They allow crafters to let their creativity run wild and create impressive projects. With their lightness, flexibility and ease of use, they are a great choice for crafters of all ages. Whether you're designing a school project, building models or making decorations, styrofoam moldings are an asset to any crafting need.
Styrofoam moldings are also a great choice for safety and durability. They are resistant to moisture and environmental elements, which means they are suitable for both indoor and outdoor use. You can also coat them with paints or varnishes (solvent-free) to protect them from external influences and prolong their life.
Floristic binding with styrofoam
Styrofoam moldings are extremely useful materials in floristic binding. They offer a wide range of possibilities for creating attractive floral arrangements and floral decorations.
The porous structure of Styrofoam moldings makes them ideal for use in floral arrangements. Florists can simply insert the stems of flowers into the Styrofoam moldings to create a sturdy arrangement. The styrofoam holds the flowers in place.
Another advantage of Styrofoam moldings is their adaptability. They can be easily covered with different materials such as moss, fabrics, ribbons or other decorative elements to achieve the desired look and style. This allows florists to personalize their creations and create custom designs.
The durability of Styrofoam moldings is also a plus in floral tying. Unlike floral foam, Styrofoam moldings last a long time and can be reused for multiple projects. This makes them a cost-effective and sustainable option for florists who regularly do events or decorations.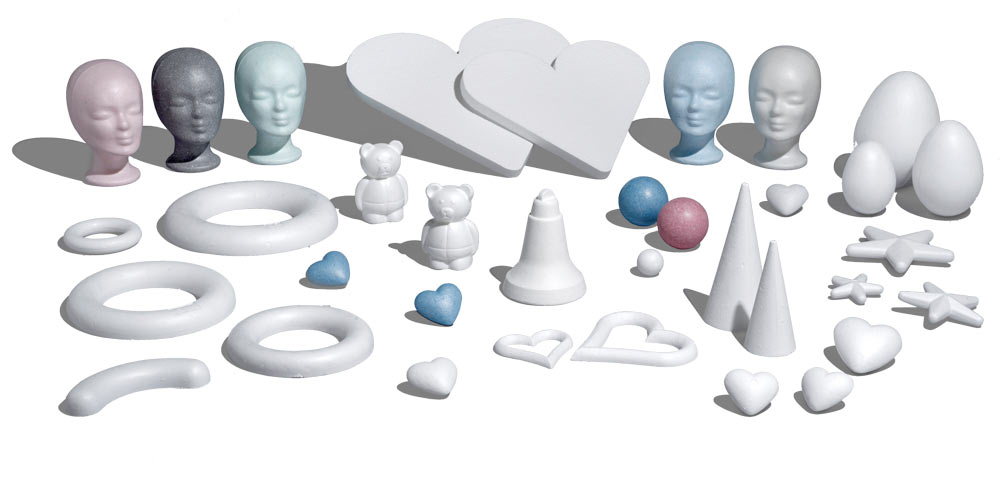 We will be happy to advise you on your individual needs