When using one ton of Biomass Balance Styrofoam, approx. 75% CO2e is saved compared to conventional Styrofoam. This is equivalent to a 10,000 kilometre car journey. At a consumption of 6.9 litres of petrol per 100 kilometres.*
*Source: http://www.naturefund.de/erde/co2_rechner/co2_rechner_auto.html, 10-11-2017
The Manufacturing Process
How does the biomass balance approach work?
At the beginning of the production chain of this Styrofoam biomass is used instead of fossil, renewable raw materials. Oil thus remains in the soil and greenhouse gas emissions are reduced.
The further production process of the EPS raw material remains unchanged. This ensures that Biomass Balance Styrofoam has exactly the same properties as conventional EPS.
The Biomass Balance approach is subject to strict regulations and is audited and certified independently by REDcert².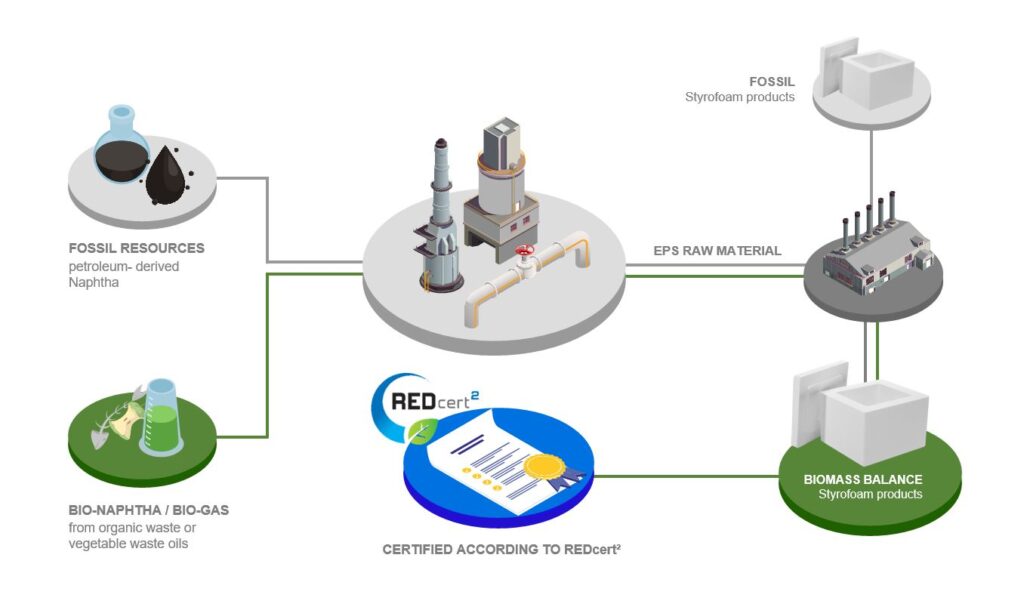 individual
customer solutions
Where can classic styrofoam be replaced by biomass styrofoam?
Almost all classic EPS products can be manufactured as Biomass Balance Styrofoam. It makes no difference whether it is technical mouldings, dunnage trays, packaging of any kind or products for the automotive or construction industry. The quality and the positive characteristics are identical to the classic Styrofoam®.
In addition, the Schaumaplast Group can design and implement completely individual customer solutions made of Biomass Balance Styrofoam by its in-house engineering team. We are at your side during the entire process in a competent and transparent manner.
Biomass Balance Styrofoam
Schaumaplast is the first REDcert²-certified manufacturer of the particle foam Biomass Balance Styrofoam.
Find out now in our flyer how you can benefit from Biomass Balance Styrofoam.
All EPS products (except cut-to-size) can be certified upon request.